HW Petrie Ltd. Machinery
HW Petrie was a machinist from Brantford. He joined a machinery business in 1882, and soon thereafter the firm was dealing in new and used machinery under his name, as well as in manufactured machinery. In 1915 the business relocated to Toronto, and focused on dealing machinery. Petrie took over the Doty Works building in 1919, applying a large painted sign to the familiar tower.
May 1931. What beautiful lettering! P Burns Co still selling coal; Laura Secord sign to the left; the Bathurst bridge was lifted and realigned to a northerly orientation in 1931. And just barely visible, to the right of the tower (click to expand), a sign for Diamond Calk & Horseshoe!

City of Toronto Archives, Series 372, Subseries 6, Item 14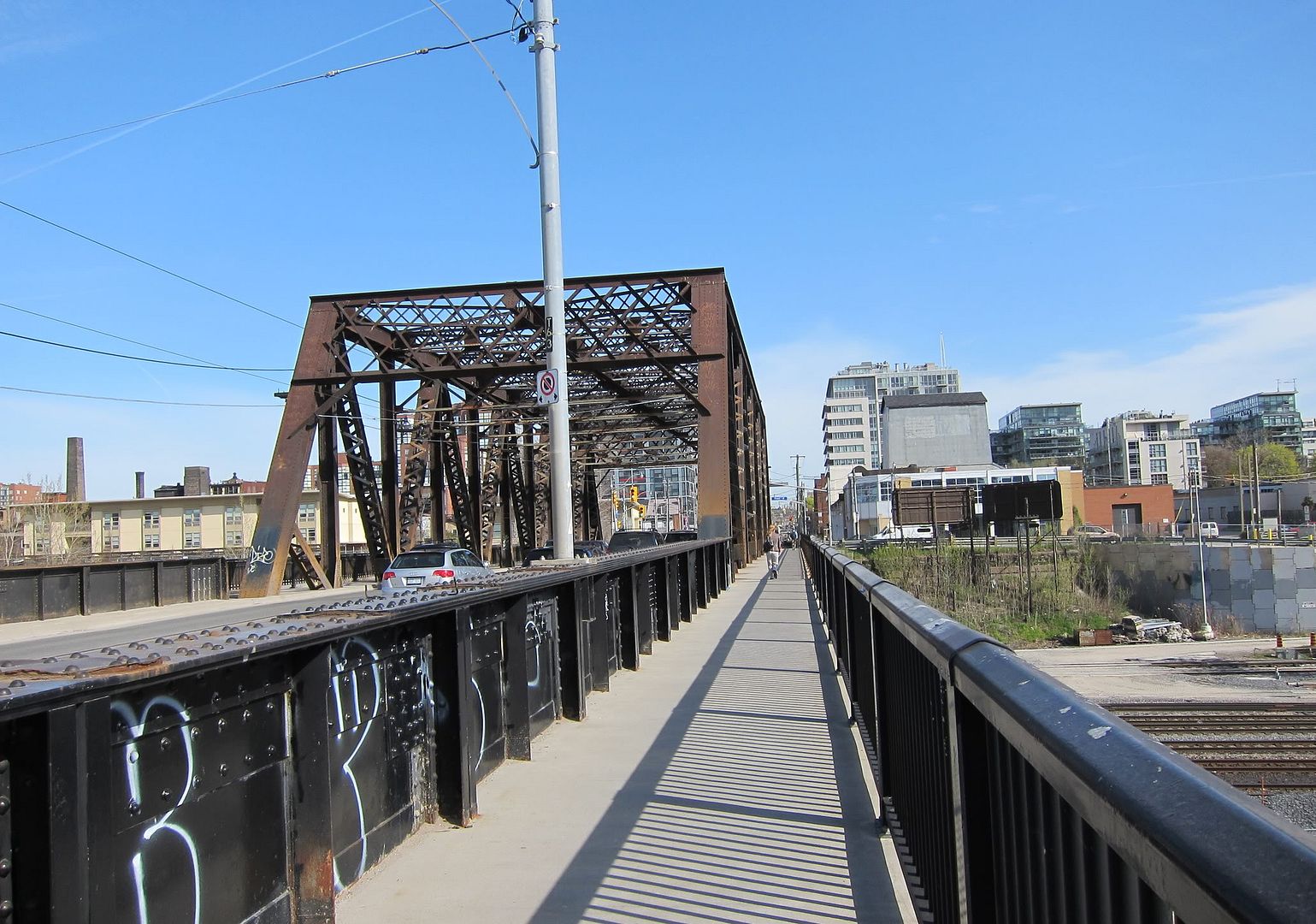 June 2011 view. I've wondered why the tower wasn't used for modern billboard advertising. Perhaps if Petrie's fanciful signage had not been painted over with such a lacklustre grey, the building's heritage would not have been so easily overlooked.
"H. W. Petrie & Co., Machinists and General Machine Dealers.—The senior member of this firm commenced business in Brantford, as a practical machinist, in 1877. Soon after this he began to buy and sell all classes of machinery, which the times and locality demanded. By thus combining the various features of a workshop with the commercial advantages of an exchange, he has succeeded in building up a flourishing addition to the many industries of the city.
In 1882 Mr. A. Petrie became associated with the original owner; since then the business has been conducted under the name and style of H. W. Petrie & Co. The shops contain the usual number and kind of sub-shops and labour-saving machinery, the power for which is supplied by a steam engine of ample size. From six to ten hands are employed, and a respectable amount of material consumed in the regular operations of the establishment."
from The History of the County of Brant, Ontario, JH Beers & Co.
Petrie's advertising typically highlighted a different, more striking building in Toronto: the Petrie Cyclorama building on the south side of Front, just west of York.
Petrie Cyclorama building - postcard - note old Union station to the right.
Petrie Cyclorama building - 1922
The Cyclorama building was torn down in 1970s. Used for pseudo-cinema shows in late 1880s before actual cinema, it was later used by HW Petrie Machinery, who eventually converted it into a parking garage for $125,000.
However, visitors were also welcome to visit the warehouse at Bathurst and Niagara, which Petrie took over in 1919.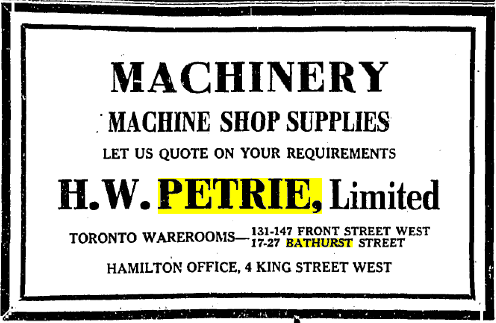 Advertisement in the Globe, Jan 6, 1921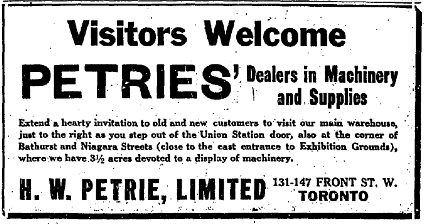 Advertisement in the Globe, Sept 2, 1921
Feb 11, 1931 - In 1931 the Bathurst bridge was realigned


City of Toronto Archives, Series 372, Subseries 5, Item 14
A glimpse of the tower from Fort York, 1930.
Note orientation of bridge. Photo: Margaret Maud (Hicks) Howard
Courtesy Toronto Public Library E 1-8e
Petrie would operate from this location for the next two decades, until 1940. The lot would be shared with several other tenants, including the Diamond Calk & Horseshoe Company, Mussens Machinery Ltd, and Holman Machines.
Diamond Calk & Horseshoe Company

Diamond logo
In 1924, the Diamond Calk & Horseshoe Company leased space at Front and Bathurst. The company was founded in 1908 by a Swedish blacksmith named Otto Swanstrom.
As its name implies, the company's business was in the manufacture of insertable and removable calks (extensions on the toes or heels of horseshoes, for better traction), drop-forged horseshoes, and other farrier products. The business was based out of Duluth, Minnesota, and once had employed 800 people.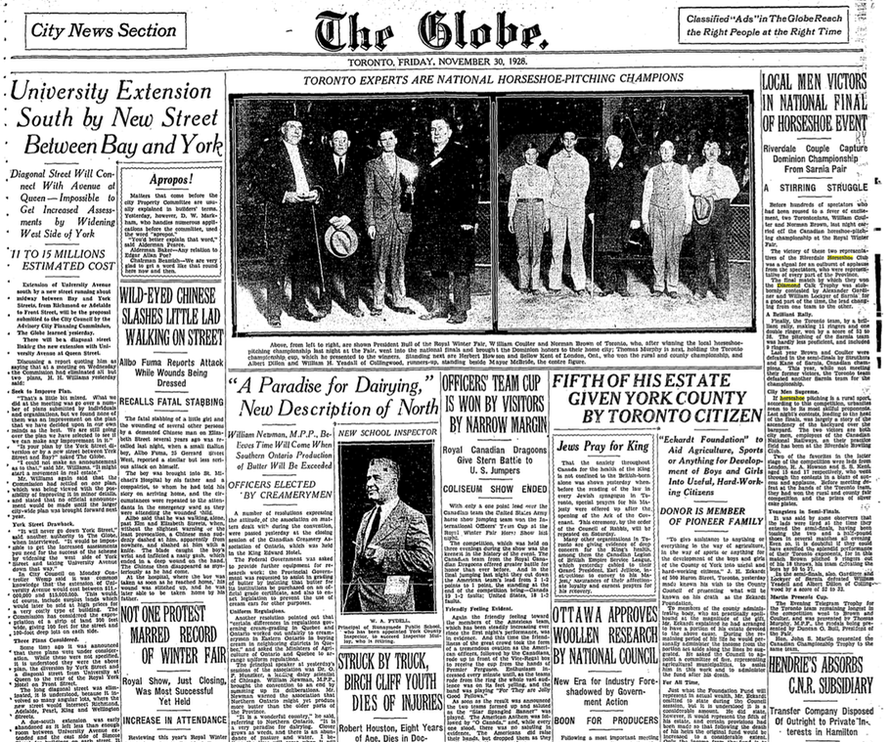 Coverage of the 1928 Canadian National Horseshoe Pitching Finals in the Globe.
Photo: Presentation of the Diamond Calk trophy to the winners
In 1931, Swanstrom patented a
'hooked'
horseshoe that was designed to better catch a target post. This design innovation was a success, and the design was widely imitated. Diamond correspondingly grew in stature until it was a common name in the sport, and dedicated collectors will invariably come across Diamond shoes.
Swanstrom's patented

'hooked'

pitching horseshoe design

An ad from International Horseshoers Monthly
From 1924 to the 1940s, Diamond also operated a subsidiary manufacturing plant in Toronto -- in the Doty Works complex.
Diamond Calk & Horseshoe at Front and Bathurst
Diamond horseshoes are commonly marked
'Duluth'
, denoting their place of manufacture. Those produced in Toronto are rather less plentiful, and bear a unique
'Toronto'
mint mark -- and those manufactured in Toronto in the 1920s and early 30s are further distinguished from most Diamond pitching horseshoes in that they are hookless, pre-dating Swanstrom's 1932 hook design.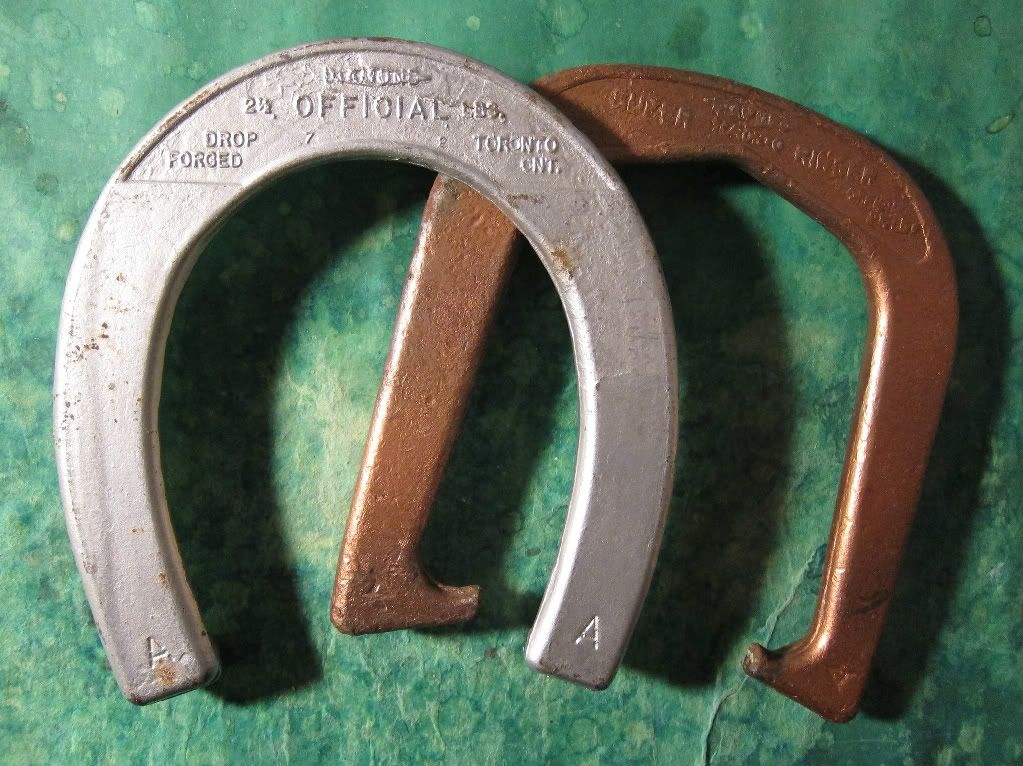 Left: A Diamond

"Official"

2 1/2 lb Drop Forged shoe manufactured in the Toronto Diamond plant, circa 1930. Note the hookless ends. Right: a Diamond

"Super Ringer"

, also manufactured in Toronto, circa 1940 -- this shoe bears the patented hooks.
The English side of

"How to Play Horseshoes: Official Dominion Rules and Regulations"

printed by Diamond Tool and Horseshoe Co.
A family owned business, Diamond would branch out from horseshoes to become a manufacturer of adjustable wrenches and pliers, as well as continuing to produce farrier products.
An aerial view of Front and Bathurst, from a 1927 survey by Fairchild
Diamond Tool was sold in 1981 to Triangle Corporation, which was later acquired by
Cooper Industries
.
The Intervening 50 Years - 1940s to 1990s
The more I delved into the history of Front and Bathurst, the more I realized I was only scratching the surface of what has taken place at this corner.
Bathurst Tool and Machine, circa 1964.
Bathurst Tool, 1967. via Chuckman's. Note Diamond Tool Horseshoe, right.
My interests lie primarily around the Victorian era, so I did not pursue the tenancy of the Doty Works building past Diamond Calk and Horseshoe. That task is left as an exercise to the reader...
Bathurst St - April 1983. Photo by Patrick Cummins.
Original (as well as a ton of other fascinating photos) found here.
Fortuitously for the Toronto climbing community, the building managed to survive another fifty years, when a young entrepreneur named Karen McGilvray looked at the place and thought,
"I could build a gym here…"