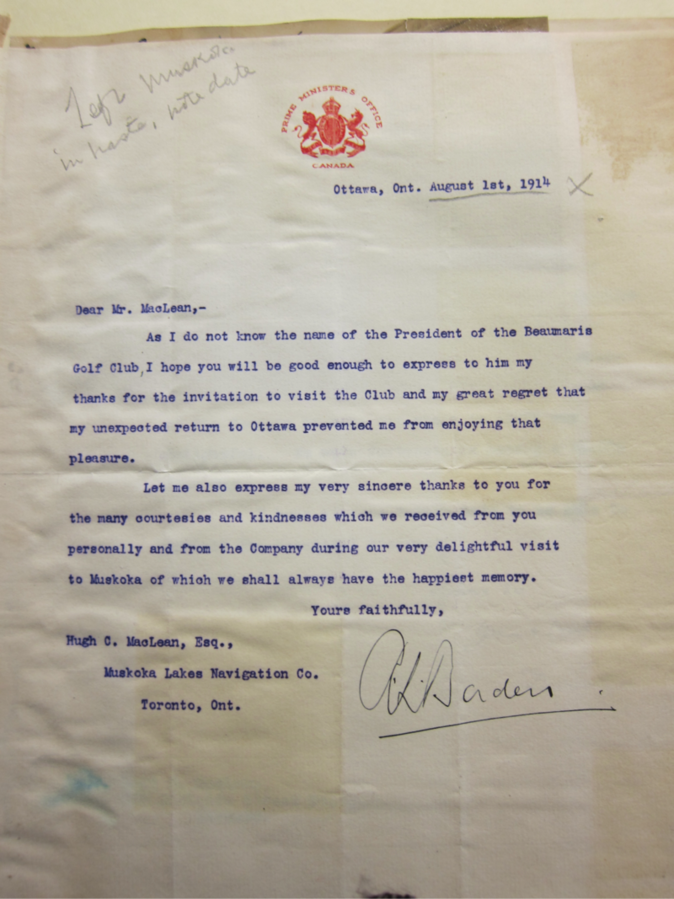 Letter to Hugh C. MacLean from Robert L. Borden
F 4566-4-0-6 Hugh Cameron MacLean records
Ontario Archives. Click to expand.
Recently I happened to unearth a fascinating piece of minor Canadiana while visiting the
Archives of Ontario
-- a letter from Robert Borden, the eighth Prime Minister of Canada, to Hugh Cameron MacLean.
The letter seems quite innocuous, but takes on an intriguing flavour when you consider the historical context.
Hugh MacLean was a printer and publisher of considerable influence and connections. [His brother, John Bayne Maclean -- they spelled their last names differently -- was the eponymous rival force behind Maclean's magazine and the Maclean-Hunter organization.]
Notice the date of the letter. It's just a few days prior to Canada's declaration of war against Germany. Late in July 1914, Borden had taken a vacation with his wife Laura, at the Royal Muskoka Hotel -- and, judging by this letter, had been a guest of MacLean's, who ran a navigation company out of the Muskokas at the time.
The
'unexpected return to Ottawa'
refers to Borden's being summoned back to the capital to deal with the outbreak of hostilities in Europe. (MacLean's pencilled note reads
'Left Muskoka in haste, note date'
) Borden had been scheduled to present the prizes at the Muskoka Lakes Association Regatta, and apparently tried to stay there as long as possible. Duty called, however.
I find it captivating to imagine our Prime Minister, on the eve of the Great War, dictating this polite note to send his regrets over a missed golf invitation.
[Borden did nevertheless manage to spend a few days hitting the links, according to
Canada, 1900-1945
]
He could scarcely have imagined that Canada was about to embark upon a harrowing journey that would define us as a nation in so many ways -- from the horror of Ypres, to the bitter upset of conscription, to the glory at Vimy Ridge.
To me, this anodyne note represents Canada's final innocence before the War -- genteel, gracious, and steeped in manners.
How I came across the note
I was visiting the Archives doing some follow-up research regarding my
essay on the history of Front and Bathurst
. I discovered that one of the subjects of my essay,
John Doty
, had written
a reference letter for MacLean
. The letter was tucked away inside a box of MacLean-related files.
As a young man MacLean had left home and his very first job was working at the Doty Machine Works as a machinist. Owing to a defect in MacLean's eyesight, he was forced to give up the trade and to seek employment elsewhere.
Canada's publishing history might have been quite different if MacLean hadn't abandoned his career at the Doty Machine Works!
My heritage-nerd card...
The note from Borden was a few pages after that of Doty's, in a file marked Correspondence - General. Serendipitous discoveries can be most rewarding. I highly recommend a visit to the Archives for any budding historical researcher.
It's a splendid facility whose major drawback is its location -- 'at Ultima Thule' (as a historian acquaintance described it), on the campus of York University. Until the subway to York is completed, it's a bit of a trek to get there from downtown. Pro-tip: bring a USB key -- you can save images from the computerized microfiche readers there!