Are you experiencing:
Sore back and shoulders
Nasty flapper on finger
Multiple scrapes and contusions that sting horribly in the shower
Wide grin permanently etched onto face?
Sounds like you just got your ass kicked at the
Tour de Bloc
!
The first bouldering comp for the season was at
Altitude
gym, a gorgeous new facility in Gatineau. Located inside a converted former church, the gym has one of the best bouldering setups I've encountered to date.
Altitude - take the 37 bus to St. Raymond!
The windows on both sides of the main hall let in an amazing, warm natural light. Most of the problems at this comp were set around a central boulder in the middle. The boulder and wall surfaces were from
Walltopia
--and it looked phenomenal.
End wall view
Spacious hall
Altitude features a fascinating artificial rock implementation which felt remarkable in terms of texture and appearance. I'm curious to see how the material will hold up over time, and was sad that I wasn't able to try climbing full routes on the surface.
Mmm, rock!
Also notable was Altitude's matting/pad system. It had a smooth surface (instead of the more familiar felt top), and felt super safe to crash onto. It was continuous and essentially seamless (that is, there were seams, but there was no sensation ever of falling on a spot between the padding). I had no qualms about landing onto it from the top of the boulder--and not just jumping down, I mean failing to stick a move, and falling on your back, or ass, or side. It must be expensive.
Nevermind yours truly; check out the padding. P.S. yay team v0!
The comp was chock full of quality problems--kudos to the route-setters. Plenty of entertaining moves, and a good distribution curve in terms of difficulty rating. I did ok, placing sixth in Mens Experienced.
I got trapped into working two problems that I
almost
but didn't quite get. They were right on the edge of what was doable for me that day. The standings gap was a couple hundred points--those two problems would have shot me into contention. There are always one or two problems where if you complete them, that 'makes' the comp; this time around I didn't quite have the juice. If I'd only slept better the night before... Next time!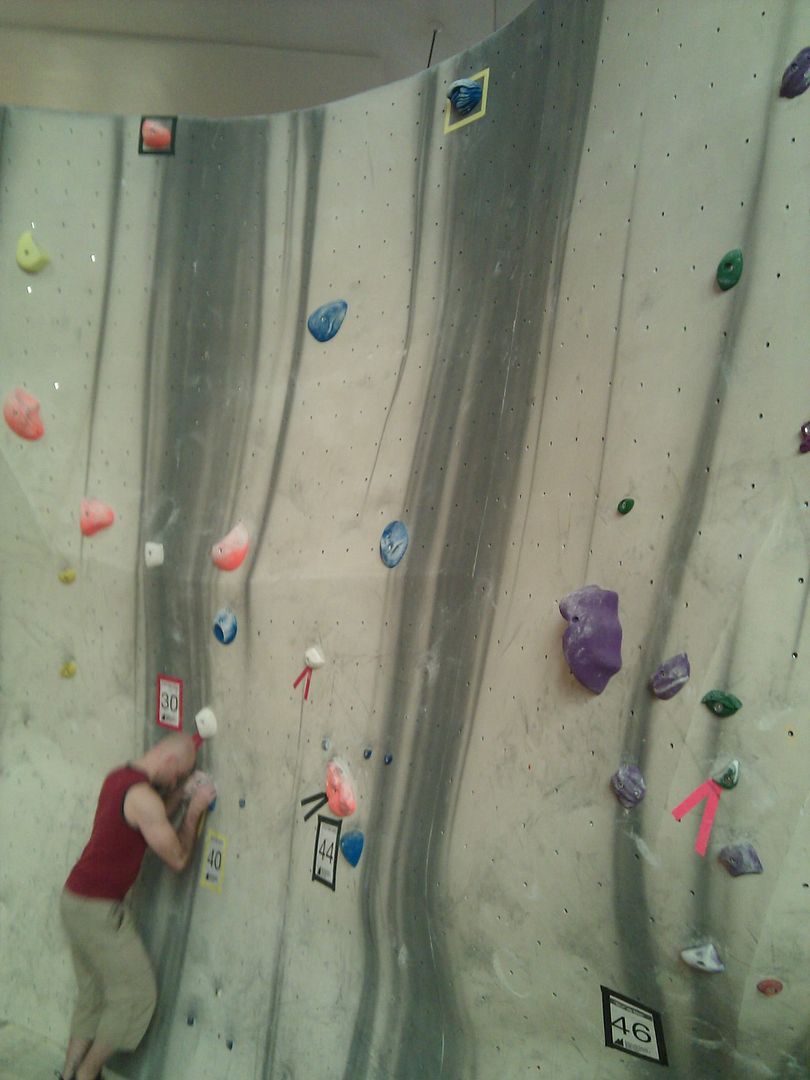 #40 - nemesis 1. A short, sweet problem. The climber is on the starting hold. The crux involves a delicate, awkwardly high hand-foot match on the right hand disc. (some tall people could skip that part and jump--boo!)
I need to consider a different strategy for these events; I spent excessive time and effort on several intermediate problems. Also, I didn't get around to trying everything, and it's entirely possible I overlooked a high problem which might have suited my skillset and style.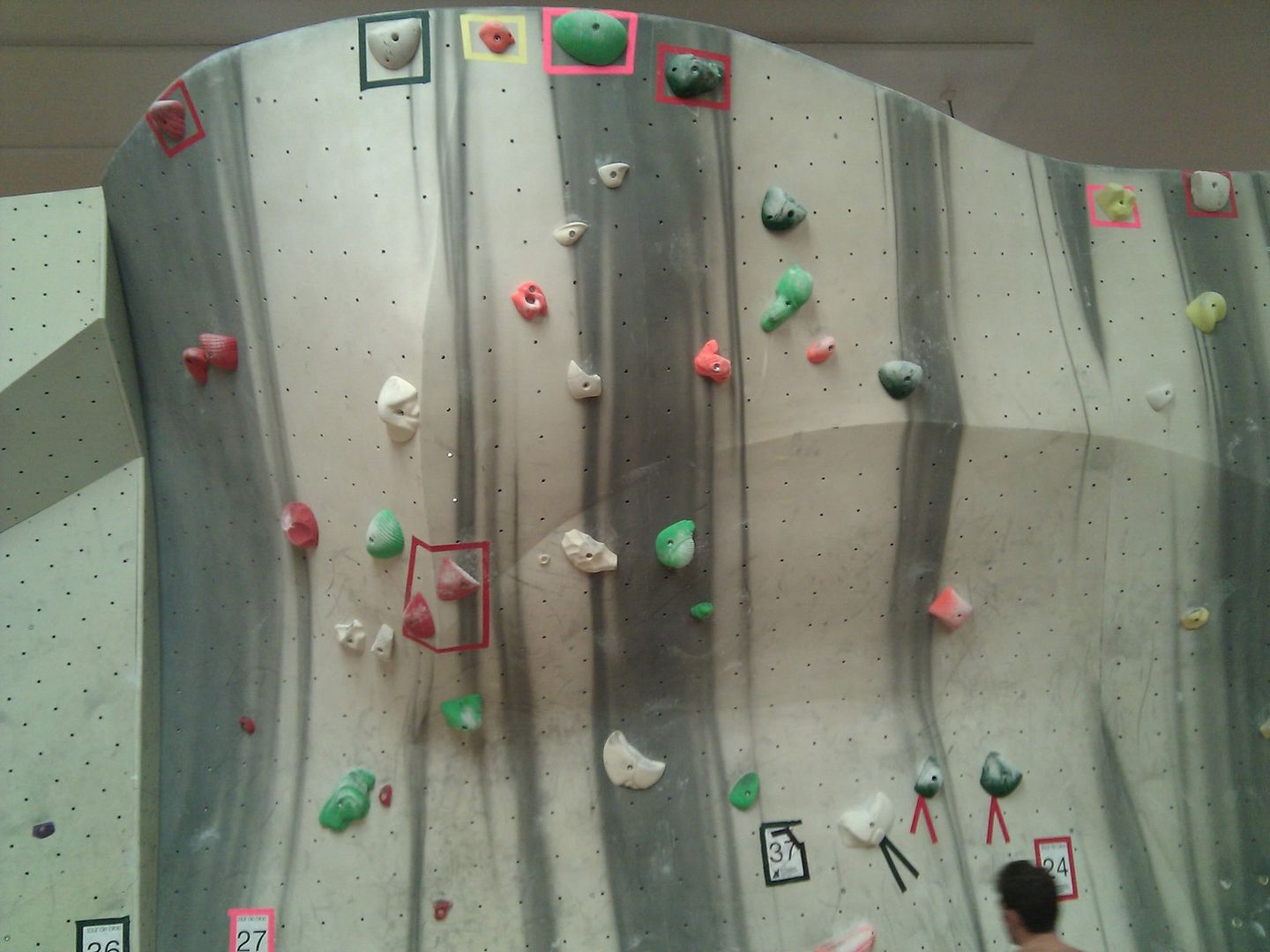 #37 - nemesis 2. It LOOKS so straightforward, but it wasn't. I got to the 2nd last hold. Involved a lot of core and tension work. The bottom of the photo cuts off some tiny foot jibs used to get on. There was a cool right heel hook going up. And then a left heel hook to hold you in place when going for the 2nd last crimper.
Incidentally, for those of you who mutter 'Why don't you go in Mens Open?' It's because Experienced is actually more fun at my level, with respect to the competition. Open is full of egregious climbing athletes, and you definitely get stoked from watching them--but often you just can't relate to the feats of strength, power, and flexibility they can perform. Whereas Experienced has a bunch of guys who are pretty close to the same ability, and the difference between a podium finish and being out of the running is typically only a problem or two--on any given day you've got a shot, and the same goes for everyone else.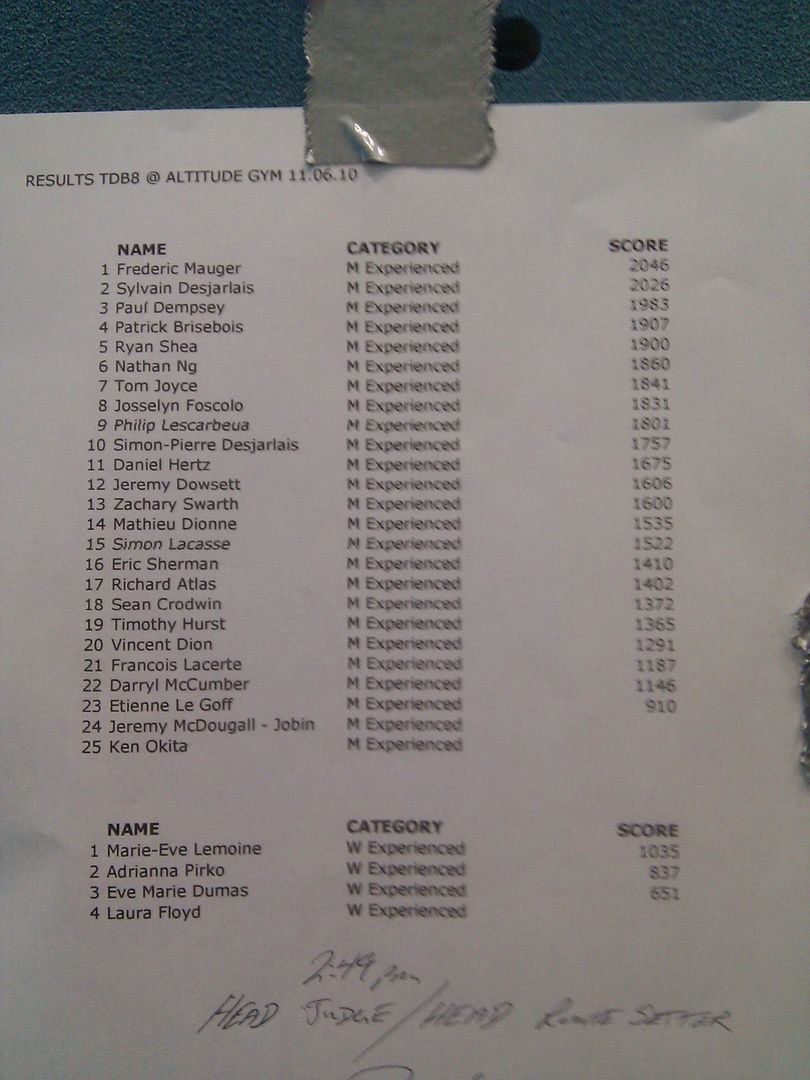 results - mens exp. tdb Altitude Nov'10
I can fantasize about moving my climbing up a level to the bottom end of where the Open folks play, but realistically my climbing is on a slow downward arc; I have shoulder issues and age's stealthy approach is nigh inexorable. Later on this season I'll do one comp in Open; my goal will be to not finish last!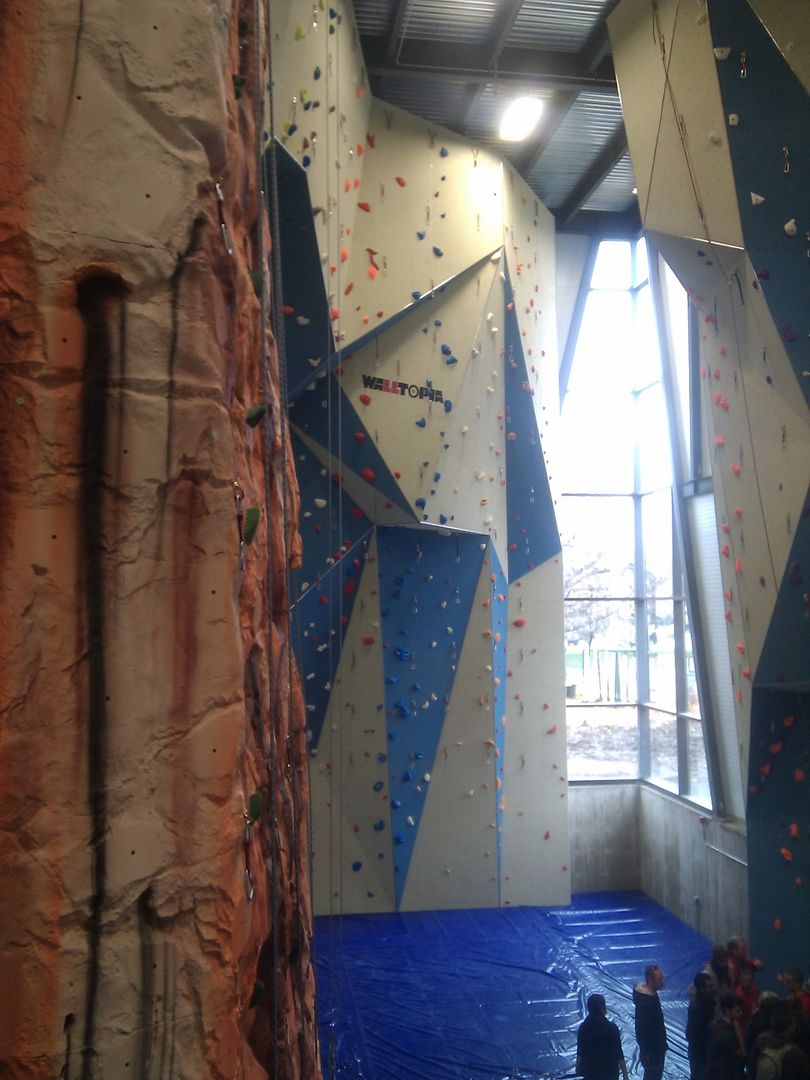 The Annex. Height!
All in all it was a great event and I'm glad I went. Thank you to the sponsors, including and particularly Jeremy D. from
ClimbingHoldReview
who was kind enough to toss some awesome swag my way for being a familiar face.
Come worship at Altitude. (Pew in the changeroom)
A few more problem photos can be found
here
. If you're ever in the Ottawa area, I highly recommend checking out Altitude.
The next comp is coming up in a few weeks in Guelph at the
Grotto
. I'm planning to attend--hope to see you there!